RushFanForever
notes that Justin Bieber, Drake and the Rush documentary were 
all nominated for Grammy Awards this year
.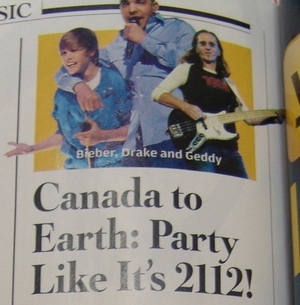 Rush gets a quick mention in the most recent issue of 
Rolling Stone Magazine
in a short article titled 
Canada to Earth: Party Like It's 2112!
The article focuses on how it was a big year for Canadian pop culture with the success of Canadian pop singer 
Justin Bieber
, Canadian rapper 
Drake
and the Rush documentary 
Rush Beyond the Lighted Stage
. You can check out a scan of the article 
here
.