So does this mean that the new desktop you bought with
Intel's latest line up chips has had it's performance throttled in some way? I
have never heard of this and wonder if AMD does the same thing.
From: AfterDawn.com
Sent: Sunday, September 19, 2010 11:20 PM
Subject: Intel to charge $50 to fully unlock their
CPUs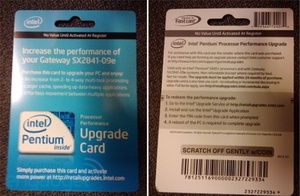 Intel
has
begun testing a new way to fleece consumers of their money, selling "upgrade
cards" that will allow buyers to fully unlock CPUs they have just purchased.
The first CPU added to the program is the cheap
Pentium G6951
processor, which for an $50 upgrade card, can be unlocked to a full 1MB of L3
cache and
HyperThreading
support.
Each of those features are on
the chip from the get-go, but stay hidden unless you buy the upgrade codes.
Once you purchase the upgrade code, you head to Intel's site, enter the
code and run some software to unlock the full features.
Intel
says
it is currently only "testing this upgrade mechanism at the budget end of the
market in selected markets."
---