Google Chrome now syncs open tabs across devices
: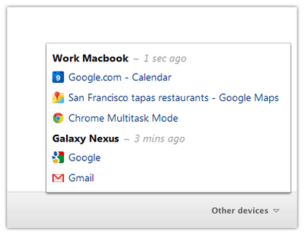 With its latest update, the
Google Chrome
browser has added the ability to sync open tabs between all devices.
Reads Google's post:
"Imagine you've looked up directions to a cool new restaurant on your home computer. Later, when you're leaving work, you realize you can't quite remember how to get there. If only you could quickly pull up the same directions on your office computer with one click!

Well, with the latest Chrome Beta, you can. When you're signed in to Chrome, the tabs you have open on one device are available on all your other devices-just click the "Other devices" menu on the New Tab page."
Additionally, the tab's back and forward history is also saved so you can literally start where you leave off on any connected device you have.
The update also works with the Chrome browser beta for
Android
.
Permalink
|
Comments
---