Google Drive on the horizon: can SkyDrive measure up?
: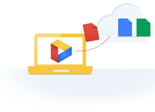 The Next Web considered themselves lucky yesterday to be on the receiving end of a draft release, purportedly from a Google partner, giving away "a wealth of information" on
Google's upcoming competitor to Dropbox and SkyDrive
. That service, which has been known as Google Drive or G Drive (or code name Platypus) over a long list of rumored launches
going all the way back to 2006
, is slated to *really* launch next week, "likely on Tuesday", according to The Next Web.
While most of the news about Google Drive has been leaked previously (5gb of free storage, more for a price, Windows/Mac/Android/iOS, etc.), it looks by all accounts that Google Drive is right around the corner, and so are comparisons to not only Dropbox, but SkyDrive as well.
Microsoft has already announced a number of new features coming to SkyDrive, and we're hearing that they're coming soon, too. So even though we don't have all the details on either service, that's not going to stop us from comparing the services, one not even officially announced yet, and another yet to be updated.
| Features | SkyDrive | Google Drive | Dropbox |
| --- | --- | --- | --- |
| Free storage | Now 25GB (We've heard an unsubstantiated rumor via a tip that this may drop to 7GB for new accounts or accounts with less than 7GB) | 5GB | 2GB |
| Paid storage | Yes (hinted at, not official, plus our unofficial info) | Yes | Yes |
| Windows client | Yes (Windows 7, 8 Explorer and Metro-styled app on Windows 8) | Yes | Yes (Windows 2003, XP, Vista, Windows 7) |
| Mac client | Yes | Yes | Yes |
| Windows Phone client | Yes | No? | No |
| Android client | No? | Yes | Yes |
| iOS client | Yes | Yes | Yes |
| Sync | Yes | Yes | Yes |
| Documents editing | Yes (via Office Web Apps) | Yes (via Google Docs?) | No |
| OpenDocs support | Yes (rumored) | Unsure | No ? |
| Users | 17 million | none, yet | 45 million |
| Availability | Soon? (SkyDrive is available now, and has been since 2007. We're still waiting for the latest features.) | Next week? | Now |
Microsoft, after letting SkyDrive languish while Dropbox flourished, has finally decided to reinvest in "personal cloud storage", but with Google Drive right around the corner, are the SkyDrive improvements coming too little, and too late? Or will the latest set of updates allow SkyDrive to compete with Dropbox and Google?