Headlong Flight single: cover art revealed, full version available for download April 24th
: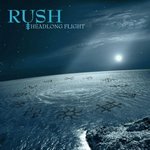 Last week Rush released
a short,
30-second preview clip
of the
Headlong Flight
single from the upcoming
Clockwork Angels
album online. We were also treated to the
Clockwork Angels cover art, complete track list, and a new
band publicity photo
, along with an updated release date of June 12th. In addition to all that, we received confirmation that the
Headlong Flight
single will release to radio next Thursday, April 19th as I'd
reported a couple of weeks ago
. And now we have
confirmation via Amazon.com
that the digital release will indeed take place the following Tuesday, April 24th as
I had also reported
. Better yet, it looks like the full, 7:20 version of the song will be available and they also
posted the cover art
. The listing gives the track's
original release date
as April 20th - which I assume is just referencing the radio release (although it's not clear why it doesn't read April 19th). But it states that the song won't actually be available to download until Tuesday, April 24th. Thanks to
Dave H
for the heads up.
...